SUMMER 2018 AT RICH KLEIN NEW YORK PHOTOGRAPHY
Here are some updates regarding our summer photography work:
1-- Just started a photography book project, "50 Women Over 50 From One Town" featuring 50 gorgeous women from my hometown of Massapequa, NY. The book, which will be my third since 2014, is expected to be available for the 2018 holiday season. To raise funding for the project, I have started a GoFundMe page here. The Facebook page for the book is here.
2-- In late May 2018, had an opening reception for a long-running exhibit at the Villa Roma Resort in Callicoon NY inside Eleanor's Country Kitchen. The
prints, many from The Catskills of Sullivan County: A Photography Journey, are for viewing and for sale.
3-- Starting in August, will participate in an upcoming History of the Catskills art exhibit at The Liberty Museum and Arts Center .
4-- I recently started teaching basic photography skills to teenagers in Liberty, NY. At the end of the course, I hope to post some of their work.
5-- A big print of the Roman Coliseum that I shot in 2016 in now hanging at Coloseeo Family Restaurant and Pizzeria in Monticello, NY.
6-- It's engagement and wedding season and I have availability to shoot yours or your loved ones' event throughout New York State, New Jersey and beyond. Just email richkleinny@gmail.com or send us a message via our Rich Klein New York Photography Facebook page.
7-- We are also available for fine art portraits/headshots, glamour and boudoir. Here are some recent samples.
8- We love photographing newborns and their families.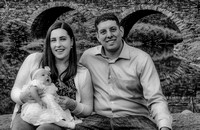 9-- We continue to shoot the gorgeous landscapes of Sullivan County's Catskills. Here are two recent shots that showcase "country living."

10- We also recently did a shoot for the 2018 Jeffersonville Journal, which should be out soon.
Contact: Rich Klein
845-482-2404 or 917-470-3073
richkleinny@gmail.com
Instagram: @richkleinny